December 2012
2012 Winners Windland Smith Rice International Awards
Larry Lynch ONCE AGAIN was recognized in the 2012 Fall/Winter Nature's Best Photography magazine. His Alligator picture appears on page 19 in the "Highly Honored Wildlife" section.
December 18, 2012
Pinellas County High School
Photo Contest Winners
1st Place "Leaking"
by Sage Bohannon
East Lake High School
Teacher - Katie Tracy


Last year the three winners were students of hers

2nd Place "Time"
by John Reid
Tarpon Springs High School
Teacher - Mrs. Marmorale
3rd Place "Ponder"
by Madison Vorbrich
East Lake High School


Madison also won 3rd Place is our 2011 Contest as well as an Honorable Mention. She also received an Honorable Mention this year.


Teacher - Eileen Iacobucci
Pinellas County has 18 Public High Schools. Ten schools have art/photography teachers and all of these ten schools participated in the contest. Three-Hundred-Ninety-Four images were submitted. In addition to the awards above, the judges selected 51 images as Honorable Mentions. Our judges were Jim Goins, Lisa Sibley and Jeff Donald.
Upon notifying the teachers they expressed how excited they were and could not wait to notify their students.
Submitted by: Mary Burke, Chairperson of Contest – Suncoast Camera Club of Clearwater
Click below to view a slideshow of the award and honorable mention images.
http://www.photodex.com/share/mary_burke/w8xbcmg4
The Photodex website will need to download a viewer before you can view the video
December 2012
Message from the President
Hi Members,
It's hard to believe that another year is coming to an end. This is the time of year we look back and all the good things and sad things that happened in our lives during the year.
Suncoast Camera Club had a great year. Quite a few of our members had photo's published in magazines, won national and international contests, had their photos shown in local exhibits, and some may have earned revenue for their photography art. Our sponsored High School Photo Contest was very successful, many more entries this year.
With "members helping members", I have noticed improvements in the work of many of our photographers. Thank you to all who shared your expertise with others.
I've enjoyed this year as president and I hope to enjoy year 2013 also. I want to thank all who have volunteered as board members, committee chair persons, those who have accepted a task in a moment's notice.
The New Year will bring opportunities to all of us at SCC, new places for field trips, new programs for meetings, new acquaintances, learning new skills.
I want to wish all of you and your families, a safe and Happy Holiday Season.
Happy Shooting,
Jo
November 10, 2012
Joint Meeting
with PSA Central Florida Chapter
SCC members enjoyed presentations by landscape photographer Lance Warley and well-known birding photographer Michael Rosenbaum. Many thanks to Lance and Mike for coming up from the Everglades to share their beautiful images and knowledge. Here is Michael's PSA Journal article titled, "Some Suggestions for Photographing Birds in Motion."
Also, the PSA Chapter Showcase slideshow was created and presented by Bill and Irene Kramer. Congratulations to Bill Kramer for winning the best individual image award.
October 2, 2012
Dave Cross Club Presentation

SCC was honored to have Dave Cross of Dave Cross Workshops and NAPP present a very informative and practical workshop titled, "Work Smarter, Shoot Faster".
September/October 2012
Members Excel in Local Magazine Contest
Photos submitted by five SCC club members are featured prominently in the September/October 2012 issue of Tampa Bay Magazine. The photos are shown in a multi-page layout titled "Views of Tampa Bay: The 2012 Photo Contest." Congratulations to (alphabetical order) George Burke, Mary Burke, Jim Goins, Nick Muskovac and Liz Rylan. You may recall that some of these same photographers have had their work published in earlier years of the magazine's annual photo contest, including last year.
September 27, 2012
SNAP! You could be a photography winner
Do you dream of having your own photography exhibit, or just of being recognized for your genius work with a camera? The Suncoast Camera Club-Clearwater is looking for the photographic work of Pinellas County public high school students for its third Digital Image Contest. Entries (no more than three per student) must be submitted on CD to the students' art/photography teachers by Nov. 27, and teachers forward submissions and entry forms by Dec. 4 to the Pinellas County schools digital arts office. Photographs are judged on impact, composition and technical excellence. Prizes are $100 for first place, $75 second and $50 third.
August 24, 2012
PSA's Who's Who in Photography 2011
The SCC is proud of the accomplishments of our PSA members and is honored to have them as part of our club. Top EID Exhibitors North America - Nick Muskovac & Frank Crommelin
Top North American Exhibitors in Nature Projected Images - Erik Rosengren
Featured photographs: Nick Muskovac - Jurassic Park III, Erik Rosengren - Good Fisherman - Royal Tern, and Frank Crommelin - Medieval Knight
May 15, 2012
PSA Inter-Club Competition
George McKenna received an Award of Merit award in a recent PSA Inter-Club Competition. George's picture will now be entered into the 2011/2012 Best of the Best Competition.
May 15, 2012
Photo Contest

"The editorial team of Photo Contest regularly examines photographs submitted by professional and amateur photographers from all over the world. We have chosen to publish your photograph Showgirl in our acclaimed "Best Of 2012 Photography". Your photograph was selected out of many entries. Your work above was appreciated for its structure and composition."
April 2012
PSA May Journal
Frank Crommelin's image [above] is on the cover of the May PSA Journal. Frank has written an article, "A Day at the Zoo," that is featured in the May issue of PSA Journal. Frank encourages all members to join the Photograph Society of America. Many congrats go out to Frank.
April 15, 2012
National Geographic Photo of the Day

Larry Lynch's alligator photograph taken in Myakka River State Park was National Geographic's Photo of the Day on April 15th. This photograph was also included in the Best of April 2012 collection.
April 3, 2012
SCC Program Night
SCC Members Travel Near and Far 2011
ProShow Producer Slideshow by Mary Burke
To view, just follow this link:
http://www.photodex.com/share/mary_burke/xckccmg4
You may need to copy and paste this link into your web browser.
You may also need to download and install a Photodex viewer.

The club would like to like thank Mary Burke for proposing this slideshow and for all of her work in creating this slideshow. The following club members submitted pictures: Terry Pallone, Dick Miller, Michele Frenzel, Dave Hart, Dennis Zuccardi, Mary Burke, Jim Goins, Jim Mahoney, Jo Devine, Dave Hutchinson, Nick Muskovac, George Burke, Len Lapka, Erik Rosengren, Matt Muskovac, Dawn Nichols, Mark Zielinski, Liz Rylan, George McKenna and Marsha McKenna.
March 22, 2012
Greyfield Inn
Phyliss Carlson attended an "Imke Lass Photography Workshop and More" at Greyfield Inn in Cumberland Island Florida. One of her photographs was featured in the ad for the next workshop. Congratulations to Phyliss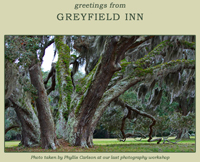 March 20, 2012
PSA Inter-Club Competition
Irene Kramer received an Award of Merit in the February PSA Inter-Club Competition for her picture "Riders of the Purple Sage". Her image scored 14 of a possible 15 points. It will be eligible for the PSA Best of the Best award for the 2011/2012 season.
March 20, 2012 Tampa Bay Magazine
Erik Rosengren's photograph of Plant Hall at the University of Tampa is the cover photo on the March / April issue of Tampa Bay Magazine.
http://www.psa-photo.org/psa-news/spring-2012/
March 6, 2012
SCC Program Night
Ron Mayberry gave a lecture on "Using Flash to Stop Action". This was one of the best interactive Program Night's ever. Ron taught everyone on how to photograph balloon's bursting. As the night progressed, the objects in the balloon varied widely. Click here to see photographs provided by Bill Kramer, David Erdman, Frank Crommelin, Jim Goins, and Liz Rylan.

Ron developed a microprocessor controlled milk drop device that precisely dispenses two drops of milk to show the initial drop's splash and then its collision with the second drop. Click here to see photographs provided by Bill Kramer, David Erdman, Jim Goins, Liz Rylan and Roy Colbert.